The Spectator
By Todd Cosner
* * *
1976
As a kid I loved to toss a ball in the air and hit it. I would spend hours doing that. I can't tell you how many wiffle balls I lost hitting them into places from which they couldn't be retrieved. But when I was old enough to play Little League, the opportunity was denied me, as my mother thought I'd be spending too much time with my father. I still don't understand how a boy can spend too much time with his dad. But it was the way it was. Sports became a thing I enjoyed, but as a spectator.
1977
In October of 1977 I watched the World Series with my dad by phone. Mom had taken us to Texas with husband number two to start a new life. Dad had called me on the phone and we watched the Series together—that had to have cost him a fortune. While we watched he shared memories of World Series games he had listened to on the radio, of 1961 and Mickey Mantle's World Series glory. The games were played during the day then, and he had to smuggle a radio with an earplug into school. Dad had difficulty holding back his excitement when his heroes hit their way into history.
In Game Six in '77, history would be made again. Reggie Jackson hit three home runs, and I was a Reggie fan from that moment on. My friends call me a bandwagon fan to this day, but I still root for the boys from the Bronx, as much because of Reggie as the shared experience with my dad.
In 2004 I would get a chance to speak with Mr. Jackson and have him sign a ball for me. The chance to share briefly this little story and shake his hand was one of the most amazing things I have had the chance to do.
1981
Life takes weird little turns when you're not looking. My mother, on her way to a second failed marriage, dropped me, my brother and my sister on my dad's steps and drove away. I guess spending too much time with dad now was unavoidable.
I was eleven. My dad said I was too old to start Little League, but my little brother Rod signed up and for several years I would live vicariously through my younger sibling. He pitched; he had a nasty fastball that few kids in our neighborhood could catch up to; he was able to do it all—hit run, throw—and it was amazing to see. I loved watching him play in those games.
In the summers we would play sandlot ball in the neighborhood. We argued every call whether it was close or not. Often we would argue over who the best player of all-time was.
In the early 1980s we didn't have sixteen channels of games to choose from; it was whatever NBC carried on Friday night, or if ESPN, in its infancy, could get a game to show, or maybe the Royals since we were in the region. On the weekends you had a great chance of seeing the great Pete Rose on one or two networks and Monday Night Baseball. That was it. Almost everything we knew about the great players came from the sports page and the backs of baseball cards. I favored Mr. October, of course.
Winter would come, and we would be buried in snow until April. In the spring I was off to the park to watch my friends and my brother play ball. As I grew into my teenage years, I came resent the spectator status I was strong-armed into and, as a result, hate the game.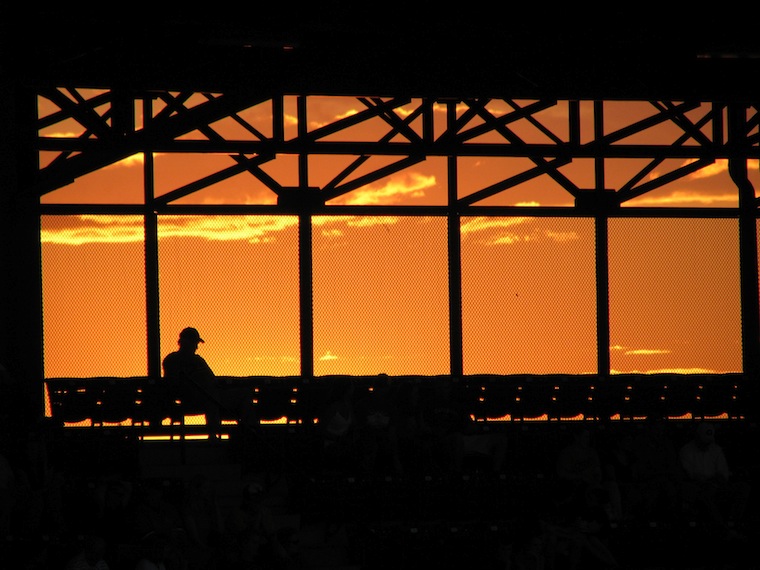 1991
When I was 23 I married my wife, a devoted Cubs fan. (My advice: marry a Cubs fan. They can put up with anything. They may not enjoy it, but they will faithfully tolerate the dumb stuff you do.) It is impossible to be married to a baseball fan and hate the game. Her interest in each and every game lit up my old spark for the game.
She kind of drove me nuts, truth be told, but Cub fans can do that. Somehow, the whole lovable loser thing drew me in, too. I don't know why, but you find yourself rooting for them without even being aware you're doing it.
1998
In the 1990s I, like all fans, was put off by the strike, but I was snapped back to attention by the home run race between Big Mac and Sammy Sosa. I began to follow the game with an interest I had not had since I was a kid.
Dad and I spoke often about the race, and he talked with childlike enthusiasm about the battle for the 1961 home run crown between two beloved Yankees, Roger Maris and Mickey Mantle.
In 1998 the entire country took notice of the game again. Everyone was talking about it, and even taking sides in the chase. I was almost sad when it was over.
2002
When my daughter began to play the game, I was a sideline dad. Having only played organized ball once in a church league, I didn't want to reveal my ignorance of the game. And having only two working fingers on my throwing hand after a saw accident, I didn't even want to be near a ball. So I watched and listened. I did that for two seasons until I was asked, for a few games, to fill in for a missing coach. I reluctantly, yet excitedly, agreed to do it. I have not stepped off a field since.
After the fill-in stint, they parked me at first base and gave me a crash course in coaching. I was once again doing something I loved as a kid: tossing up a ball and hitting for ground ball practice.
That season we won a championship. I was bursting with excitement, as if I were a player. The other coaches—both had played college ball and one had even faced Gary Sheffield in the Little League World Series—knew I had never before played in a game that mattered. After all of those years of watching my brother win trophies and awards, I had resigned myself to never knowing the joy of receiving a plastic batter on a marble pedestal with a engraved plate proclaiming you were a champion. But when the game was over and my daughter and I were walking off the field, the coach stopped me and presented me with his trophy. Now my daughter and I have trophies sitting side by side on a shelf, a memory of winning together in the greatest game ever made.